An apple tree in every street
"There should be apple trees on every street."
10 years on ... !
https://www.bbc.co.uk/news/uk-scotland-glasgow-west-11435650
John Hancox, 48, doesn't look, or sound, much like an evangelist.
But he thinks we are losing touch with the fruit that we eat, and some important history and heritage.
The figures are certainly bleak.
Over the past century, experts estimate, as much as 90% of the UK's orchards have been grubbed up for development or agricultural use.
About 40 varieties of apple used to be grown only in Scotland, just a tiny number of the more than two thousand varieties across the UK.
But go to a supermarket, or even most greengrocers, now and you would be hard-pressed to find more than half a dozen different kinds of apple on sale.
And most of them are probably imported from overseas.
Some of Scotland's apples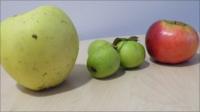 The Scots Dumpling (Left): "A big cooking apple. Quite sharp. Called dumpling because of its funny size and shape."
The Golden Pippin (Middle): "Tiny. Very nice eating apple. Dates back to the 1640's"
The Oslin (Right): "Also called the Arbroath Pippin. Another old variety. Its got a very distinctive aniseed taste. A very bonny apple."
John Hancox, Commonwealth Orchard
But Mr Hancox's group, the Commonwealth Orchard, wants to restore Scotland's orchards, and plant new trees across the country.
One place that has already happened is in the Walled Garden behind the Castlemilk Stables, in the east end of Glasgow.
Charlie Millar, 48, from the Cassiltoun Housing Association said it made sense.
"Housing associations are more than just landlords", he said.
"When we invested nearly four and a half million pounds renovating the stables we wanted to involve children.
"And we wanted to work in partnership with the Scottish government, promoting a healthier Scotland."
And 33-year-old Lusi Alderslowe from Urban Roots said working in the new orchard with local youngsters has already produced some surprising results.
"I've had a child come in and say 'I don't eat plants'," she told BBC Radio Scotland's Good Morning Scotland programme.
"We come into the stables with different schools and nursery groups.
"We take different apples and cut them up into pieces, so each of the children get a taste of the different varieties."
If John Hancox gets his way communities across Scotland will be sharing that experience.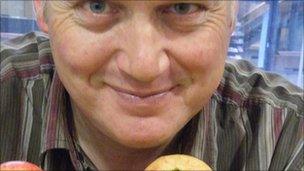 He said: "We're working with schools and community groups to plant new orchards.
"The idea is that people like having fruit growing near where they live.
"If you look at medieval maps of cities like Stirling, Perth, or Glasgow the centres of these cities used to have orchards growing in them.
"The Merchant City in Glasgow is built on the site of an old pear orchard. So there's a very long history of people growing food in urban areas."
And that, he said, could also mean an end to the limited choice, and reliance on fruit from abroad, in most supermarkets.
"It's a shame that most of the apples you get are imported, and there's a very limited range," he added.
"The other thing that really annoys me at this time of year is that there are loads of apple trees in Scotland, dripping with fruit that doesn't get picked.
"Bringing in fruit from New Zealand, Canada or France when you've got perfectly good fruit on the trees not being picked seems completely crazy."